Explore Venice and its lagoon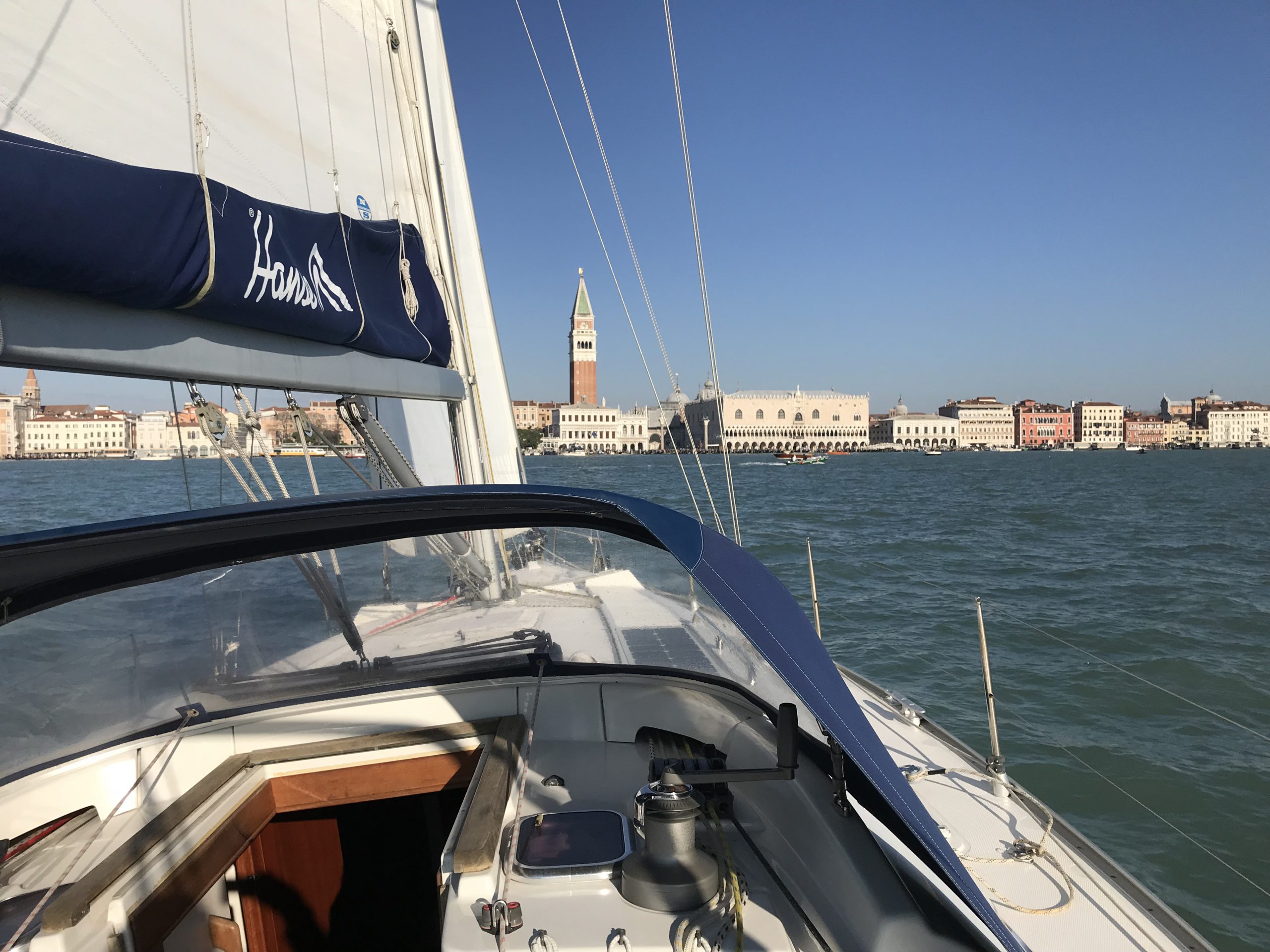 We propose a "lagoon – sea – lagoon" itinerary, which, starting from Giudecca Island, runs along the homonymous canal passing in front of San Marco square until it goes out into the sea through the Lido harbor. Once in the sea, weather permitting, you can sail or relax with a nice bath.
We will offer a typical Venetian Aperitivo.
Venetian lagoon on Safìra
A short distance from the historical city opens the Venice lagoon, a large, silent expanse of water dotted with half submerged lands, where the noise of the city give way to silence.
There are hundreds of islands that emerge in the lagoon: some are large and others small, some inhabited, some uninhabited and other sparsely populated, and some seem stable, while others are being formed and more are being eroded or are even disappearing. There are many protected birds like egrets, gulls, kingfishers, herons, hawks….
Here reign supreme boats and fishermen. It is the part of Venice where nature predominates, but it is also the place where the signs of history show how the city's origins are ancient and distant.
It is a 11.25-meter Hanse 370 sailboat, consisting of three double cabins, a bathroom with shower, a kitchen, and a "small living room". It is approved for navigation without limits from the coast. Its characteristics of veiling and shape make it a "fast cruiser" therefore a comfortable boat to make us quiet cruises but, at the same time, with sailing performances that are anything but negligible.
| | All day | All day | Half day | Half day |
| --- | --- | --- | --- | --- |
| No. of person | Per person | Total | Per person | Total |
| 7 | 55 | 385 | 35 | 245 |
| 6 | 60 | 360 | 40 | 240 |
| 5 | 70 | 350 | 45 | 225 |
| 4 | 80 | 320 | 50 | 200 |
| Less then 4 | | 300 | | 200 |
| | An aperitif and a pasta are offered | An aperitif and a pasta are offered | An aperitif is offered | An aperitif is offered |
Info and reservation 
+39 328 4778299
safira@casaeden.it